The long bread squishy is formed by the foaming of green non-toxic and environmentally-friendly pu polyurethane material. The slow-rebound toys are popular among children, teenagers and even adults in Southeast Asia, such as Europe, America and Japan, and are popular in Europe, America and Japan.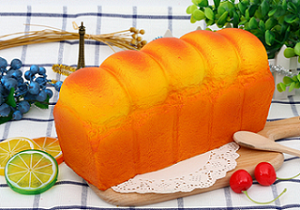 Long bread squishy characteristics:
1. Long bread squishy made of environmentally friendly material PU foam, very soft and lovely.
2. Fery slow rebound, very soft, you can squeeze it, watch it slowly rebound, very interesting.
3. You can exercise your hand strength, relieve stress.
Wet use of long bread squishy:
Long bread squishy is suitable for cake shop sample model, cabinet decoration, home showroom layout, home decoration, shopping mall store decoration, advertising promotion, wedding decoration, shooting, teaching, games, early education props and children's play house toys, etc. .